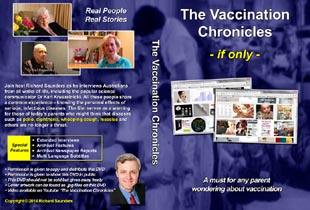 The Vaccination Chronicles DVD
Order your copy, signed by Richard Saunders.
Once you have your copy, please make as many copies you like and pass them along. Encourage others to also make copies to pass along as well.
Note:
What you are buying is the DVD on its own without cover and label art. They are included on the DVD as images files.
The DVD is the PAL format but should work on computers and newer DVD players and TVs in NTSC areas. No region code.
$12 covers production and postage to anywhere in the world.