Featuring

Verna Morris, Maureen Chuck, Ken McLeod, Monica Saville, Dr Richard Gordon, Dr Karl Kruszelnicki, John Bundock, Peter Bowditch and Lauren Cochrane with Ada and Jack.
YouTube
http://youtu.be/mTprFOmIjIg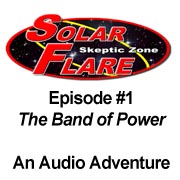 The Band of Power

Join the cast of the Skeptic Zone Podcast, and host of special guests, in their first audio adventure as they board the Australian Space Ship Solar Flare to fight the forces of woo thoughout the galaxy!
Also featuring the hit song
FAR by George Hrab.
It's old time radio from the future!